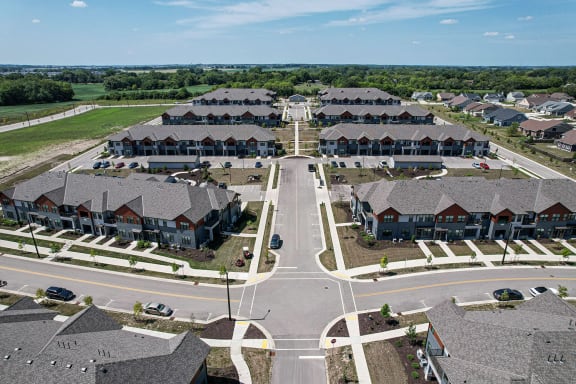 OUR NEIGHBORHOOD
Stroll along a picturesque trail. Explore the serene riversides. Hit the lake on an exhilarating jet-ski. These experiences and many more are just minutes away from Tivoli Green – right in the heart of it all.
Mount Pleasant is a quaint yet flourishing suburb that retains a welcoming, small-town vibe, yet has inspiring new opportunities on the horizon that put it on the forefront of Wisconsin's future. Downtown Racine is 15 minutes away, bustling Milwaukee is 25, and the incredible offerings of downtown Chicago are less than an hour's drive. Or, hop on the train at the local Amtrak station and let someone else do the driving, whether you're commuting or taking a weekend in the city.
All the conveniences you desire are nearby Tivoli Green: grocery stores, shopping, dining, and a dazzling array of educational offerings including Case High School, Gifford Elementary/Middle School (both of Racine Unified District) and UW Parkside. Top private and charter school options are also available.
Tivoli Green is right where you want to be.
FOOD & DRINK
Meli Pancake House
melicafepancakehouse.com
1158 Prairie Dr, Racine, WI 53406
1-262-583-1876
Jose's Blue Sombrero – Racine
6430 Washington Ave, Mt Pleasant, WI 53406
1-262-886-5600
josesbluesombrero.com
Blue Bear
2920 Taylor Ave, Racine, WI 53405
1-262-583-3131
bluebeareats.com
Butcher & Barrell Gastrogrub
300 6th St, Racine, WI 53403
1-262-383-2300
butcherandbarrel.pub
The Maple Table
520 Main St, Racine, WI 53403
1-262-456-7899
themapletable.com




GROCERY
Festival Foods
5740 Washington Ave, Mt Pleasant, WI 53406
1-844-878-6949
Walmart
5625 Washington Ave, Mt Pleasant, WI 53406
1-262-504-2048
Pick N Save
2820 S Green Bay Rd, Mt Pleasant, WI 53406
1-262-554-9630
Piggly Wiggly
5600 Spring St, Mt Pleasant, WI 53406
1-262-886-0373




PARKS
Smolenski Park
438 S Stuart Rd, Mt Pleasant, WI 53406
1-262-664-7800
Lockwood Park
4300 Graceland Blvd, Racine, WI 53405
1-262-636-9131
Patrifying Springs Park
5555 7th St, Kenosha, WI 53144
1-262-857-1869
LOCAL AMENITIES
Amtrak Station | 2 Miles
Root River Access | 1 Mile
Pike River Parkway | 2 Miles
Movie Theater | 2 Miles
Downtown Shops | 7 Miles
Grocery Stores | 3 Miles
Healthcare Centers | 1 Mile
YMCA-Sealed Air Branch | 1 Mile
Meli Pancake House | 2 Miles
Jose's Blue Sombrero | 2.5 Miles
Blue Bear Restaurant | 6 Miles
Butcher & Barrel | 7 Miles
The Maple Table | 7 Miles
Mitchell Int'l Airport | 19 Miles
Mt Pleasant Village Hall | 1 Mile
Gifford Elem. & Middle | 3.5 Miles
Case High School | 2 Miles
Gateway Tech. College | 7 Miles
UW-Parkside | 8 Miles
I-41/94 | 3.5 Miles
O'Hare Int'l Aiport | 60 Miles